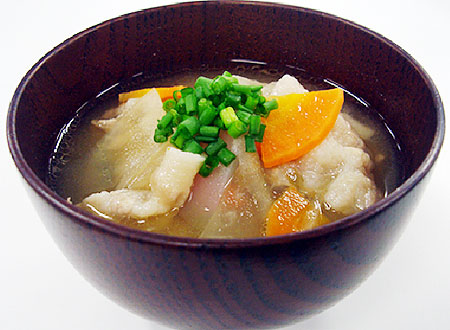 <Ingredients_4 servings>
Hongatsuo DASHI Soup・・・800ml
Miso・・・40g
White Giant Radish・・・150g
Carrot・・・60g
Devil's Toungue (Kon-nyaku)・・・60g
Pork・・・60g
Burdock・・・50g
Deep Fried Bean Curd (abura-age) Scallion・・・20g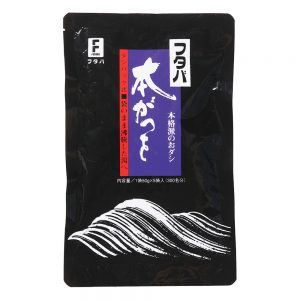 <How to Cook>
①
Cut white radish and carrot in quarter-rounds, burdock in diagonals, parboiled Kon-nyaku and Abura-age in rectangles, and pork in a bite size.
②
Cook vegetables (radish, carrot, burdick, and Kon-nyaku) in 800ml DASHI soup on the medium heat.
③
Add pork and Abura-age when the vegetables are cooked, cook until the pork is tender.
④
Place the strainer in the soup pot, add Miso gradually into the soup while softening with some stock and dissolving.Heat until right before boiling, then serve in a bowl and sprinkle the sliced scallion.