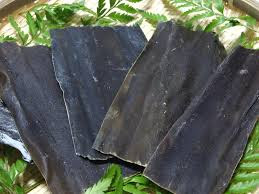 About 1300 years ago, the Kombu kelp which is the product of the North Sea is written in old Japanese literature. 800 years ago, the development of Hokkaido advanced, the Kombu kelp has become an important trade item. Kombu kelp spread over the years while melting into the food culture of various places over the years.
Okinawa was a relay point of China trade at that time. Even in that Okinawa, the Consumption of Kombu kelp per serving is the top class in Japan.
Dr. Ikeda Tokyo Imperial University succeeded in removing glutamic acid from Kombu kelp in 1908. He discovered that glutamic acid is the main ingredient of Kombu kelp soup and named its taste umami.
Following glutamic acid, it was clarified that inosinic acid contained in dried bonito and guanylic acid contained in dried shiitake mushroom also have umami. These research results were also taken up in international places. With the first umami international symposium held in 1985, the term umami (English notation = UMAMI) was to be used internationally.
Below is plenty of umami, no chemical condiments, gluten free concentrated Kombu kelp soup "Marokon"
Product No.: 8022
Product name: Marokon 1L (Concentrated Kombu Kelp Soup )

Packaging :   1L/bag × 6bags/carton
Size of CTN:  262 × 176 × 294  mm
JAN-code:   4960002050846
Expiration date:1 year from manufacture day
Dilute this product Marokon with 50 times to 100 times water.
Notice
We will exhibit in Japan booth ANUGA 2017 at The Koelnmesse in Germany on Oct. 7 to 11. We propose various menu using DASHI, especially, Seafood concentrated Dashi sauce and All-purpose liquid seasoning. We are seeking distributer in Europe. Please visit our booth.
See you.