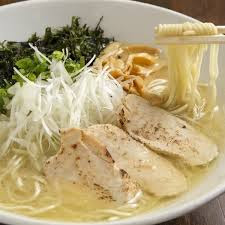 Tori-paitan Ramen (ramen with a whitish chicken-bone soup) has been popular for about 3 years.
It is a chicken version of Tonkotsu Ramen (pork bone broth ramen), using a soup which has chicken bones stewed carefully.
It cooks the soup at high temperature using a pressure cooker, it smells less than Tonkotsu Ramen, and everyone is easy to eat.
There are many ramen shops that toppings roasted chicken, and it is a very pleasant ramen for women because it can take plenty of collagen from chicken bones.
If you are interested in metabolic syndrome, you can eat it without worrying about chicken white ramen.
Healthy chickens are perfect for the last meal of a Japanese businessman returning to the drinking party.
Rich taste of Tori-paitan Ramen, creamy texture and clean aftertaste are steadily increasing fans!
See you.