The three-major ramen in Japan are Sapporo-Ramen, Kitakata-Ramen and Hakata-Ramen.
It has no definition of history, taste and popularity. It is so-called local ramen.
Sapporo-Ramen is a local ramen that develops mainly in Hokkaido Sapporo City, Kitakata- Ramen is in Kitakata City Fukushima Pref, and Hakata-Ramen is in Hakata district Fukuoka Pref.
This time, I will introduce Sapporo-Ramen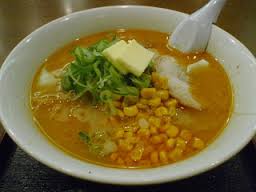 Sapporo-Ramen
Sapporo-Ramen has a history of about 100 years
At that time, it was a very different style from the current Sapporo-Ramen.
Current Sapporo Ramen is mainstream with miso flavor. Noodles are thickened and crimped noodles.
In addition to Char-siu pork (roasted pork fillet) and Menma (bamboo shoots), ingredients are generally frying and serving vegetables such as cabbage and bean sprouts.
One of the features adds more butter and corn as a topping.
The reason why Sapporo-Ramen became famous is that the chain stores of many stores spread all over Japan and the launch of instant Sapporo-Ramen.
The characteristics of Sapporo-Ramen and the style of instant Sapporo-Ramen are different, but
instant Sapporo-Ramen is placed in any supermarket.
It seems that Sapporo-Ramen's famousness will not go down in the future.
See you.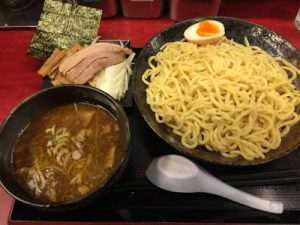 Tsukemen is a Japanese noodle ramen dish in Japanese cuisine consisting of separate servings of noodles and soup or broth, whereby the noodles are dipped in the soup.
The noodles are typically served cold, while the soup is typically served hot, which serves to season and moisten the noodles.
The noodles can also be served at room temperature.
Additional ingredients used in the dish are typically served atop or on the side within the dish of noodles.
Some additional ingredients used include nori, chashu, menma, tamago and boiled eggs.
In recent years, tsukemen has become a very popular dish in Tokyo and throughout Japan, and several restaurants now exist in the country that purvey it exclusively.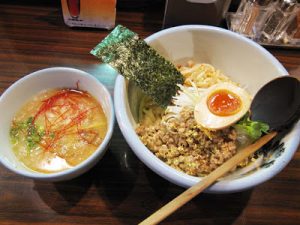 【How to cook】
Ingredients_4 servings


Don-don series katsuo tsuyu・・・200ml
Water・・・400ml
Vinegar・・・30ml
Spicy sesame Oil (La-Yu)
Sesame oil
Sesame seeds
Pork back ribs・・・100g
Egg noodles・・・4 servings
Boild egg・・・2 eggs
Green onions
Cooking Oil
Don-don series katsuo tsuyu
http://www.futaba-com.co.jp/english/product/Liquid_KtsuoTsuyu.html#Katsuotsuyu
Concentrated seasoning with authentically-brewed soy sauce and plenty of real Bonito DASHI. Just lighten with water to create professional flavor in variety of dishes. Excellent for not just Soba dipping but also for rice, soup, or many simmering dishes.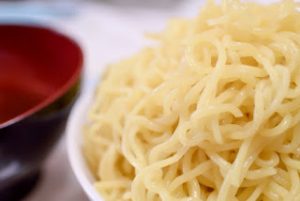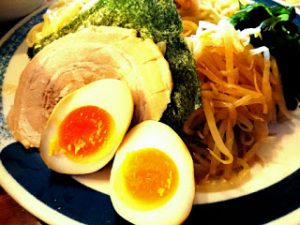 ①  Heat up the greased frying-pan and cook pork back ribs, add water and DonDon Katsuo Tsuyu.
②  Bring ① to boiling, add spicy sesame oil, sesame oil, vinegar, and chopped green onions. Turn off the heat.
③  Cook egg noodles in plenty of boiling water for 2-3 minutes. Rinse with running water and drain water well.
④  Pour ② in an individual bowl, add half cut boiled egg and sesame seeds. Serve with the noodles.
【How to eat 】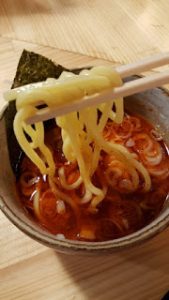 First,please taste a fragrance.
Second,ladle up mouthful Noodles.
And then dip a little Noodles to soup.
Because,to enjoy Noodle's flavor itself,it's not good soak all of it.
When you swallow Noodles,please enjoy it's feeling.
※It is smart to eat Noodles in one gulp with a moderate noise.It is a Japan style!
Thank you.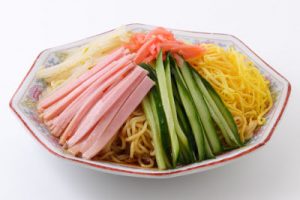 (Cold Chinese noodle served toppings such as eggs, shredded ham, tomato, and cucumber)
HIYASHI-CHUKA is Japanese summer cuisine cooked with cold soup and cold Chinese noodles.
It is Japanese cuisine rather than Chinese cuisine, and originated in Sendai City, Miyagi prefecture in 1937.
At the time, there was not air conditioner yet, the manager of ramen shop was in trouble because hot ramen could not be sold in summer.
Therefore, it was devised by merely making cold ramen.
It got spread all over Japan, and various improvements were added depending on the region.
Japanese people want to eat a HIYASHI-CHUKA during the summer season.
【How to make HIYASHI-CHUKA】
①Cook Chinese noodles with cold water after boiling.
②On top of that noodle, serve shredded ham, julienned strips of thin omelet, cucumbers and tomatoes.
③In some cases, garnishes such as braised shiitake mushrooms and boiled bean sprouts are used.
④Place a cold soup stock based on soy sauce and vinegar or sesame sauce.
⑤Also, it is delicious even if mayonnaise and Japanese mustard is added as you like.
See you.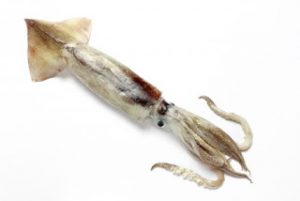 The Japanese Flying Squid isn't as well known as many others out there.
They also have features that are distinct to this particular species.
You will notice rings around the back of the head.
These are used to determine how old they are.
They are very small and light weight squid as well.
It is caught off the shores of Northern Japan and south of Kyushu Island.
The Japanese squid can live anywhere from 5°C to 27°C, and tends to inhabit the upper layers of the ocean.
They are short lived, only surviving about a year.
The fishing season for the Japanese flying squid is all year round, but the largest and most popular seasons are from January to March, and again from June to September.
Gear used to catch the Japanese flying squid is mainly line and hook, lift nets, and gill nets, the most popular method being hook and line used in jigging.
Most of it is turned into various pickled or dried cuttle fish/squid products.
It is also much appreciated broiled or simmered.
It is quite popular as a simple sushi nigiri, or slightly boiled with "tare" sauce.
I
KA-KIMO CHOUMI PASTE
http://www.futaba-com.co.jp/recipe/recipe_5699_11.html