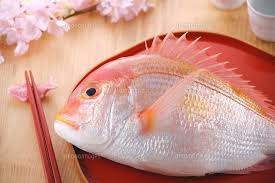 For Japanese people, Red Sea Bream is a special fish. It has been used as a celebration fish since ancient times, as a fish with beautiful appearance, color and delicious taste In addition to the noble fragrance and umami, It can be deliciously eaten in any cooking. Therefore, it became useful as a king of fish in Japan.
Red Sea Bream, a white flesh, lives in various parts of Japan. Basically, it is delicious immediately before the spawning season, the fat needed for egg maturation will throughout the year. The taste of season is spring. Especially in March to April accumulate. Also, it is also good for getting colder season from late autumn to winter.
Among the typical Red Sea Bream dishes, sashimi, sushi, grilled dishes, steamed dishes, miso soup, a rice dish like paella etc. However, recently a Red Sea Bream Ramen is very popular. The ramen soup from which the taste of a Red Sea Bream was condensed is widely loved by many people.
Seafood concentrated Dashi sauce series Red Sea Bream type is the essence sauce that uses Japanese red sea bream. It has elegant flavor and umami. Using it to make Red Sea Bream Ramen.
Product No.: 8087
Product name: Sozaichomidashi Tai 1L (Red Sea Bream sauce)
(Seafood Concentrated Dashi Sauce Series Red Sea Bream type)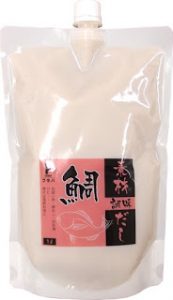 Packaging :   1L/bag × 9bags/carton
Size of CTN:  440 × 236 × 280 mm
JAN-code:   4960002050846
Expiration date:1 year from manufacture day
Notice
We will exhibit in Japan booth ANUGA 2017 at The Koelnmesse in Germany on Oct. 7 to 11. We propose various menu using DASHI, especially, Seafood concentrated Dashi sauce and All purpose liquid seasoning. We are seeking distributer in Europe. Please visit our booth.
See you.